When Is the Right Time to Rebrand?
Five Questions to Guide Your Next Move
Posted on December 8, 2022 in Branding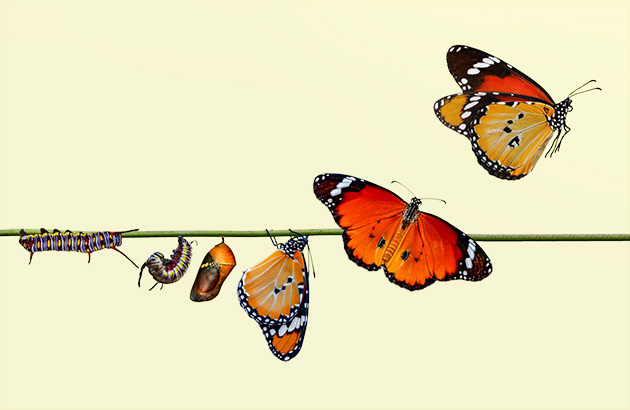 We currently live in a world where audiences are continually bombarded by marketing, data and advertising, all competing for the same set of eyes. In this increasingly exhausting environment, a strong, well-established and nurtured brand identity is critical to the success of any business.
A business's brand is its most important intangible asset. As Jeff Bezos captured it, "Your brand is what other people say about you when you're not in the room." A successful brand is able to connect with people on an emotional level (rather than a transactional level) to influence behavior and establish trust and loyalty.
A brand is much more than just a firm's logo, its website or its marketing collateral. Everything a firm does influences its brand's perception in some way: the quality of its work product, its internal culture and commitments, how it engages with customers, and a host of other factors all combine to establish a firm's brand with its audiences. And these are all variables that can change with audience perceptions over time.
Yet, well-established brands remain great through evolution. They build upon their legacies by reflecting vision, ongoing commitment and the promise to not only respond to, but lead the market. Your brand is both a reflection of your organization and the perception you want to create in the marketplace. And to that end, a firm's visual strategy, messaging and execution do play an outsized role in how businesses connect with consumers and begin to establish that level of trust. Those visual marketing touchpoints are often a potential client's initial interaction with your firm and will create that first impression that will either begin to instill trust and confidence in your firm's capabilities, or create a barrier that your firm will need to overcome through additional outreach and engagement.
So, how do you know if your firm's current visual brand is effective or if a rebrand (or even a less intensive "refresh") is needed? A change to your internal marketing department or an individual's personal preferences on their own shouldn't be the primary driver of a decision of this magnitude. As we head toward 2023, here are five questions to ask to determine whether now is the right time to rebrand your firm:
Has your firm's vision or mission changed?

Has your business recently gone through a merger or acquisition and expanded service options, opened new locations, or added on new affiliates and team members. Internally, does the firm look significantly different now than it did when the existing brand materials were developed? Or maybe you've had a change in leadership at the top of the business and your firm's overarching strategic goals have changed as well? These types of changes can redefine a business, and therefore, impact its selling points and what it wants to project to the market.

If your business is headed in a new direction, then so should your brand. As major shifts in your company's vision and mission change, your brand should evolve as well. Ask if your marketing touchpoints and key messaging are effectively capturing who your firm is today and who you want to be, both internally and externally. If the answer is no, then a rebranding initiative may be needed.
Have your target audiences changed?

Determining who you are is one key factor that goes into an effective branding strategy, but also understanding whom you serve (and perhaps more importantly, whom you want to serve) is another. Often, new target audiences come as a result of intentional internal changes (leadership, acquisition, business growth, etc.), but other times, an audience shift can come simply by chance or other factors outside of a business' control.

Perhaps the audience you serve now isn't the one you had a decade ago. Perhaps with the COVID-19 pandemic, your company expanded its digital capabilities and now you target a more tech-forward audience than ever before. Maybe you recently added new services that are gaining attention. Or maybe there's been a shift in the industry sectors you serve and the types of services those prospective clients are seeking. These are all factors that can influence your company's reputation amongst target audiences, and therefore affect your rebranding strategy.

You want to be able to keep the successful clients you have, and also aspire to reach more potential clients by better aligning your brand messaging and presentation to speak to the desires of your intended audience(s).
Does your brand feel outdated or ineffective compared to your competitors?

An initial step when deciding whether or not a rebrand is needed is to conduct an honest assessment of your firm's website and branded marketing materials in comparison to those of your key competitors. Do your competitors present a clearer brand position or client benefit? Are they providing a more sophisticated and cohesive presentation? Are they more effectively positioning themselves as subject matter experts in a way that encourages engagement with audiences? Try to put yourself in the shoes of a prospective client. If you look at two or three of your competitors' websites first and then look at your firm's site, what is your immediate impression? Is your firm presented at the same level – or a higher level – than those competitor sites?

Styles and technology change over time, and brands that keep up with the change and continually strive to surpass their competitors are far more likely to appeal to their target audiences and succeed than those that don't.

If it slightly embarrasses you to send a prospective client to your website or to compare your brand materials to those of your competitors, then it's time to come up with something new you can be proud of and level the playing field between you and your competition.
Are you continually having to educate your audience because of market confusion or a lack of differentiation?

"Dove," the chocolate, is much different from "Dove," the soap, and strong branding is key in differentiating between the two. If clients are confused or unclear about your business' products or services, or if you find your firm is being confused with a competitor because of a similar name or brand message, these are signs that your existing brand is ineffective and it's definitely time for an update.

Your brand should speak for itself and paint a clear picture of your firm and the benefit(s) you offer to your clients and customers. And the visual execution of the brand should support that desired positioning in a way that effectively separates your materials from others in the market. Ask yourself questions like:


Is your firm's brand messaging consistently communicated, or does the message change often depending on the audience or execution?
Does your firm's logo stand out among a crowded field or does it feel generic and get lost in the shuffle?
Is your brand composition (colors, fonts, imagery selection, messaging, etc.) too similar to another company or competitor?
Does the firm have a clearly defined color palette and usage strategy or are different colors applied without a specific rationale on different marketing pieces?
Are you using pre-designed templates for too many of your materials that the presentation feels generic?
Are you missing any key materials from your marketing suite that competitors are using, thereby creating a hole in the business development chain that your firm fails to fill?


If you are continually having to explain or clarify your firm's vision and mission to people, this could be a sign of a weak or inconsistent brand identity. Your brand should easily identify your firm, and not leave people wondering whether you are chocolate or a soap bar.
Is your company culture lacking direction?

One thing businesses often forget is that their biggest brand ambassadors are their employees. An engaged employee will represent the brand through the work they do and the services they provide, as well as communicate with clients and prospective clients what the company's brand position and mission are, without confusion. But, without a well-executed and defined brand identity, employees can often find themselves lost, mismatching information and even hesitant to point to your company's brand materials. The end result is multiple, potentially competing brand messages entering the market, which will only add to the confusion.

Having a strong brand starts with a clear vision of who the firm is and wants to be, along with those attributes that could potentially distinguish it from the competition. Do you want your company to be seen as progressive and tech-forward? Or maybe established and dependable? Or maybe you want to focus on more of the firm's corporate values and how those influence the services you provide and the clients you work with? In any scenario, having an established brand will invite and remind employees of what your company aims to achieve, as well as highlight those attributes and values that can serve as talking points during client conversations and pitch meetings for new business opportunities. Critically, it can help ensure internally that everyone will be on the same page when it comes to communicating the firm's key brand messages to external audiences.

An internal evaluation of your firm's culture can help guide future conversations around the best ways to outwardly reflect that culture through the firm's marketing touchpoints. A company is stronger when working together, and a unified company creates a sense of trust among clients and a better work environment for everyone.
If you've answered yes to any of these questions, it may be time to consider a rebrand. Remember, an effective brand is more than just a pretty face – it needs to find ways to distinguish you from the crowd, capture your firm's values, eliminate any marketplace confusion and unify your team internally. It should elevate the conversation around your company when you're not in the room to hear it.
Alternatively, if there aren't clear answers to some of these questions or if time and budget are a constraint, then exploring a more limited brand refresh could be a viable alternative to a more intensive rebrand. A firm could make more "surface level" improvements to the visual presentation of its brand, such as:
Expanding its color palette
Exploring new or alternative fonts
Making more limited adjustments to its brand messaging and headlines
Updating its imagery assets and/or considering new image styles
Whether you think it's time for a rebrand or just a refresh, Herrmann is here to help. Call Herrmann today for an audit of your firm's existing brand and messaging, or email Herrmann's Chief Business Development Officer John Albert at john@herrmann.com if you're ready to get started.